Strategy
The Strategy to achieve our aim is to construct the various facilities in phases, working in co-operation with other disabled organisations sharing expertise and resources.
Facilities to be developed:
Play to Podium
Unique children deserve unique landscapes.
It is an unfortunate reality that many children, particularly disabled youngsters, rarely get the chance to explore the world around them at their own pace.
Creating unique spaces for unique children, offering the freedom to explore the world around them and experience new challenges in an environment free from unacceptable risks and hazards are all important elements of the sort of playscape we wish to provide. An exciting playscape has been designed for children up to 8 years.
Multi-Use Ball Court
A further development for older children is to provide a multi-use ball court for sports and games to enable continuity between ages and further develop a number of skills and physical ability.
These colourful courts have been developed with visually impaired people in mind.
The use of specialist challenging equipment can provide an exciting challenge so that co-ordination, strength, stamina and agility are all improved.
Riding for the Disabled
It is an established fact that 99% of the riders who went on to compete in the ParaOlympics began their riding lessons with Riding for the Disabled. We have examined the need and opportunity for this project. The need is very high, there is little opportunity to partake in this sport. A combined total of 6-8 hours a week to cover a wide geographical area is all that is available. This is a woeful situation which must be corrected.
We have the Land area required and have researched the management requirements and costs to run the service once developed. Riding for the Disabled have been very supportive and will continue to guide us through the development and management process. The environment, stable yard and stables have been designed.
Walking – Trekking – Rambling – Running – Jogging
Our proposed walking centre will be a catalyst for walkers on the South Downs. There are many limitations that deter disabled people enjoying the freedom of the South Downs, but our walking centre will provide the necessary the facilities, assistance, volunteers and advice.
Accommodation Pods
In addition we provide All Weather Accommodation Pods for those visitors or groups who may require overnight accommodation. Either by planned or emergency choice.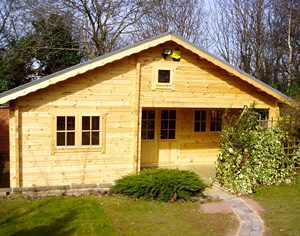 Log Cabins
It is intended that log cabins be provided for holiday respite breaks for disabled people and for those with life limiting disabilities, who would find a caravan or tent impossible to use. This fits within our charitable objectives.
Sensory and Scented Garden
A two acre site for the less able and older Blind, Partially Sighted, Disabled and Wheelchair bound people who can enjoy sitting or walking along short avenues of the scented and tactile garden plants.
For those older more active people, raised beds are planned for the cultivation of plants, flowers, vegetables. It is also hoped to have a small orchard and fruit garden.
Supported by volunteers and offering, training and support to young people of working age, who require experience to help them gain confidence working with vulnerable people.
We have the land, we require, a garden designer, tools, top soil, plants, and trees, a greenhouse and potting shed and most importantly volunteers.
Click here if you'd like to help support us